Kris posted this over on his personal blog yesterday, but, I thought we should put it on this blog as well... since we really haven't told everyone the good news.
---
As those who follow the Trygkerz family probably know already, I started a new job at Plains Art Museum in downtown Fargo at the end of September. My job title is Communication Manager which, you guessed it, means that I manage the information flow that comes out of the Museum. I write press releases, set up marketing plans, write copy for ads and, generally, handle the promotional/creative work that doesn't involve images (we have another guy, sharply talented, who does that).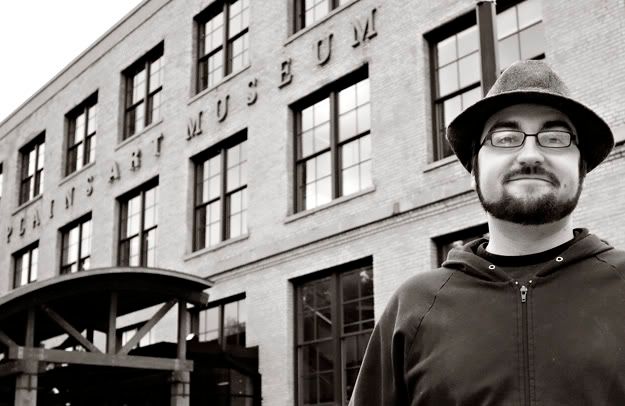 It's a good job. In fact, it's probably one of the best jobs I could hope to have given my interests and skill set. I get to align my love of arts and culture with my love of a well-written piece of information. Even better, I get to work with a fantastic group of passionate people who all love the task of making a museum successful and meaningful.
I've learned a lot in my time there so far. I took over this position from a woman who worked for the Plains for 27 years, meaning she'd been doing this since I was four years old. In my two weeks training with her prior to her retirement, I received a master's class in the fine arts of promotion, marketing and information management. And, I've learned a lot about the operation of a non-profit, particularly running a non-profit in a time of economic stress.
Although I have a cubicle and share office space with the rest of our development department, I have a lot of room. My computer has sweet speakers and I can listen to music while I do my thing. The pace of business is just right. I have plenty to do but I'm given what I need to do it. The mood is typically positive and upbeat. I fit in well with my department mates, too.
I do miss the HoDo. That place was good to me. It offered me a chance to build skills and made me a firm believer in the Fargo downtown community, a lively place to be right now and only getting better. I didn't move that far away, though. Just a couple blocks to the west, and I can still hang out there and see the people with whom I spent six good years.
Suffice it say, I'm pleased with the new gig and feel fortunate to be happy in a good job with a well-respected organization while caring for a healthy daughter. It's good. Just plain good.