Along with the Engelhard Family (or part of it... Kim, Zach and Chelsey), the little TrygKerz family took a fun trip to the twin cities. We go to Mpls./St.Paul fairly often (well, not so often after the birth of Edie) but usually head right to St. Paul to visit our friends. This time, we took a different approach and did all the touristy things we never do.
We drove down Thursday and spent the day at Valley Fair. It was Kris' first time riding a roller coster. At first, I think he was a bit afraid (okay, really afraid). But, after the first ride on the Wild Thing, he was hooked. Valley Fair might become an annual tradition now. Unfortunately, their selection of rides for a 1-year-old isn't so awesome. We did ride the carousel and we have pictures (and video) that we will post very soon (in otherwords, they are stuck on our other camera).
On Thursday evening, we headed to Hastings to visit with the Richardson family. Chad is fellow wedding photojournalist/MSUM Advocate Almuni/Winter Thaw Participant and editor of the
Hastings Star-Gazzette
. We hung out, took some pictures (will post on the photo blog this week) and ate some amazing Puerto Rican Food (thank you Lisa!). Here are a few photos from Hastings:
(Photo by Chad)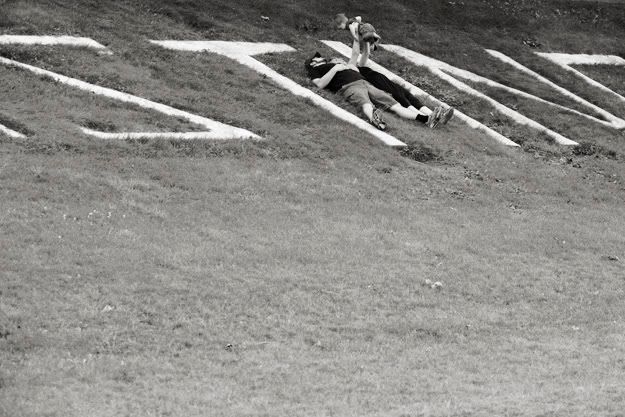 (Photo also by Chad)
(Chad and Lisa's adorable and hilarious son Gabe)
Friday morning and afternoon was spent at the Mall of America where Chelsey found all sorts of fun stores and I finally bought something nice for myself. Kris, Kim, Chelsey and Zach went to a Twins game at Target Field on Friday night while Edie and I chilled in the hotel and took a fun trip to IKEA (of course!).
The whole purpose of the trip was to take some graduate photos of my niece Chelsey. I've been photographing Chelsey for a very, very, long time. She is so extremely photogenic, so, naturally, she is one of my favorite subjects. I decided we needed something new and different for her pictures, so we decided to take a trip to the twin cities to take her pictures. After numerous recommendations to visit the St. Anthony Main neighborhood, I knew it was the place to go. Too bad the GPS doesn't know where it is. We ended up at the
Old Mill Ruins
(also awesome) and eventually found our way to where we wanted to go.
Here is a pic from the St. Anthony Area of Chelsey:
And a few more of Edie, Kris and Zachary...
All in all, it was a super awesome trip.